When you need to get rid of construction waste and junk, you can choose either a waste bin rental or a junk removal service. Which is best for your needs?
Whether your job requires the disposal of large amounts of waste or you're doing home renovations or cleanouts, you'll find there's an advantage to having a waste bin dropped off – then picked up, junk and all – at your home or worksite. In fact, there are many!
Waste Bin Rentals Save You Time and Money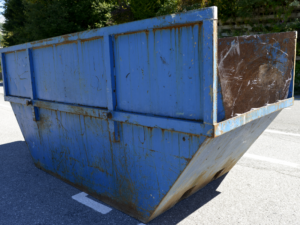 When you rent a waste bin, you can expect it to be dropped off and picked up by your provider (us), saving you and your workers time. The service also reduces the time and expenses spent on hauling waste and disposal fees at a waste station. You will effectively eliminate the need to make countless trips to dispose of your waste at landfills, as the professionals will handle it. 
Waste Bin Rentals Keep A Work Site Tidy & Safe
Without a large enough waste bin rental, debris from a job can pile up and make a mess while it awaits proper disposal. The waste can be tossed directly into the bin and taken away once it's full. There's no pressure on you to pack garbage into a lot of containers that are too small for the work at hand.
Not only will this help keep the work site clean, but it also keeps your team from having to move waste twice, increasing the work efficiency. 
The Waste Is Guaranteed To Be Disposed Properly
Turning to a high-quality waste bin rental company ensures that the materials you are throwing away will go out in an environmentally friendly way. When it comes to proper waste disposal and recycling practices, reputable waste bin rental companies have the necessary experience and knowledge. 
They can help you sort different kinds of waste materials and dispose of them sustainably. Many waste materials can be reused, recycled, or deposited in a clean fill for development purposes. You can feel comfortable knowing that responsible hands will take care of your waste without you having to do any overly complicated separating.
Waste Bin Rentals Provide More Flexibility Than Junk Removal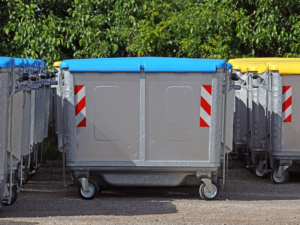 Renting a disposal bin gives you the flexibility to finish your project without being rushed. You don't have to worry about the project taking longer than expected, as we can place the dumpster on or around your property for an agreed period. 
It provides a lot of flexibility. For instance, if you need it for one week longer than you thought, you only need to contact us – we'll adjust the time and remove it after you have finished your project.
You'll Find Bins In The Exact Size You Need
There is a wide range of waste bin sizes, letting you find the perfect bin for your needs. However big or small your rubbish is, the garbage professionals can help you find a suitable size. With a giant dumpster outside, your home renovation or landscaping project will be much easier – you won't have to worry about breaking down large, bulky, or potentially hazardous pieces so they can fit better.